Air Filtration Systems in Las Vegas & all of Clark County, NV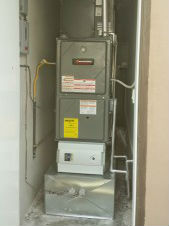 When planning and installing a new heating, ventilation and air conditioning system, think beyond hot and cold or warm and cool, think: "clean air" and improving your Las Vegas indoor air quality.  State-of-the-art comprehensive, intelligent air quality systems embrace all aspects of heating, cooling, comfort, health and energy efficiency. Whether you're confronted with dust, mold, pollen, air that is too dry, or even just annoying hot and cold spots, air cleaning and purification systems are the solution.
---
Replace your Air Filters
Did you know that you can remove 99% of the germs from influenza or flu in the filtered air of your home, as well as 99.98% of allergens? The Aprilaire 5000 traps airborne pollen, mold and spore-sized particles; eliminates airborne bacteria-sized particles and removes airborne virus-sized particles. With the ability to catch particles as small as .1 micron in size, it is rated over 8x more effective than some of the best HEPA room appliances–not to mention the 100x more effective delivery over the typical 1″ standard throwaway. When you want clean air and more of it, this is the right choice.
Nature's Home MicroPower Guard
Try the Nature's Home MicroPower Guard air cleaner in your ductwork. If you want to capture many of the smallest, most dangerous to breathe submicron airborne particles, this air cleaner will protect your home and loved from from harmful pollutants, allergens, and flu or influenza particles in the filtered air.
The electromagnetic field of the Micropower Guard will both magnetize airborne particles and the fibers from a disposable filter pad. The "forcefield" that this creates in your ductwork will capture the smallest and most dangerous submicron air particles.
Sahara Air Conditioning Air Filtration System Services
Air Filtrations System Installation
UV Light Purification
Electronic Air Cleaners
Filters Installed or Replaced (Ask us about HEPA Filters)
We Provide Air Filtration Systems to the Following Areas
Clark County | Las Vegas, NV | North Las Vegas, NV | Henderson, NV | Summerlin, NV | Centennial Hills, NV | Green Valley, NV | Southern Highlands, NV
Why Las Vegas Should Hire Us for Air Filtration Systems
Our Las Vegas clients always get outstanding personalized service from the beginning to the end of your service call. You will receive only the best in customer service throughout your entire HVAC job. Sahara Air Conditioning & Heating, Inc. gives our customers reliable heating, air conditioning systems and air filtration services that are top notch and expertly applied by our expert HVAC contractors. All of our indoor air and HVAC services are personalized to your individual needs.
Recent Articles About Air Filtration Systems
If you are looking for Las Vegas and South Nevada Air Filtration Systems then:
please call (702) 796-9677 or complete our online request form.